Market areas of GMC
For decades we have been advising, supplying and supporting a worldwide customer network in the following market areas:
Seagoing ships
Power generation
Irrigation systems
Mining equipment
Construction equipment
Commercial vehicles
Agricultural machinery
Our Service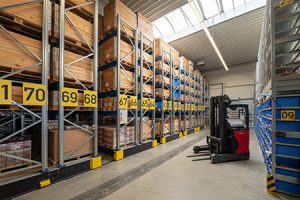 To support our customers worldwide, we have access to a trained service team and maintain an extensive spare parts warehouse with over 20,000 locations in Wesseling near Cologne. Continuous product and market monitoring ensures that the product range is expanded in line with technological developments.When procuring and manufacturing parts, we attach great importance to the highest quality, which is clearly reflected in the lower maintenance costs for you and thus contributes to customer satisfaction. Our goal is not only to meet our customers' requirements, but to exceed them at all times.
Our understanding of quality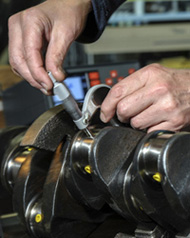 Scope of services, price, deadline – with our products and services we not only want to meet the customer's expectations, we want to exceed them.
In addition to our superiors, every single employee in our company is responsible for quality. Our many years of experience and our proven quality management system guarantee a consistently high level of quality, reliability and functionality of our products and services.
Our primary goal is to recognize and eliminate possible errors early on, even before they occur.
Certificate ISO 9001:2015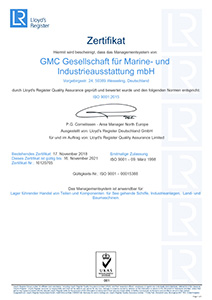 To ensure that our performance remains measurable and can always be improved, we have been certified by Lloyd's Register Quality Assurance in accordance with DIN EN ISO 9001:2015 and BS EN ISO 9001:2015. Below is our certificate, of which we are proud.
But not only the quality of our services has become measurable. In order to maintain the high quality standard of our products, we have also purchased a large pool of current measuring instruments.
Certificate Known Shipper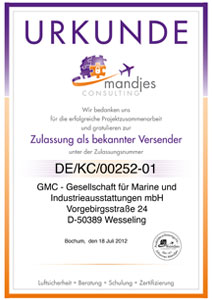 Since 2012 we have been an approved Known Shipper, certified by the German Federal Aviation Authority (LBA).
The status of the Known Shipper entitles us to send secure air freight. The direct loading into the aircraft, without additional control, allows our customers a much faster delivery and a considerable time saving for the receipt of the goods.
About the GMC
Wide range and fast delivery
Reliable, fast and professional – that has been our hallmark for 30 years. We supply spare parts for diesel and gas engines to our customers all over the world. We have more than 20,000 items in stock in our warehouse. As a certified shipper, we can send them from one day to the next, exactly where they are needed.
In addition, we access around 500,000 engine parts via our database and can thus retrieve non-stock parts from our warehouse as quickly as possible. Our goal is to do the best we can quickly, to help customers and restore their mobility.
Expansion of our warehouse in 2018
In order to continuously optimize and expand our product range for our customers, we have built another warehouse. This will allow us to accommodate even more goods on over 2,000 additional pallet spaces and massively increase our stock.
Document download
Here you can download our brochure and documents for processing your orders and complaints, or browse through our brochure.